Martin Dietrich, MD, PhD Named 2022 Leukemia & Lymphoma Society of Orlando's Man of the Year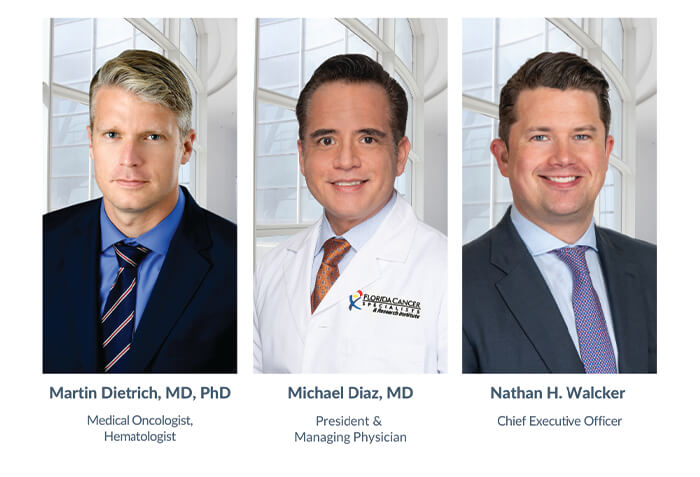 Florida Cancer Specialists Medical Oncologist Raises Funds for Blood Cancer Treatments
Fort Myers, Fla., May 24, 2022 —  Florida Cancer Specialists & Research Institute, LLS (FCS) is pleased to announce that Medical Oncologist Martin Dietrich, MD, PhD has been named the 2022 Man of the Year by the Orlando Chapter of the Leukemia & Lymphoma Society (LLS). Dr. Dietrich raised more than $70,000 for LLS to help propel him to the Man of the Year honor. Candidates from across Orlando participated in the ten-week campaign and raised a total of $359,193.
"I am honored and delighted to be named LLS Man of the Year," said Dr. Dietrich, who provides care to patients at five FCS locations in Central Florida. "Our efforts will help fund promising new therapies and treatments for patients with blood cancer and other rare forms of cancer."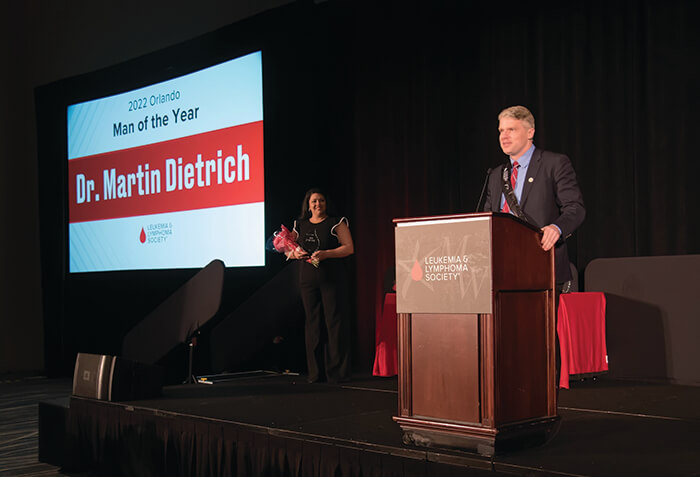 Dr. Dietrich and his dedicated team sponsored numerous fundraising activities, including an Exhibitor's Fair held in Orlando to showcase the advanced treatments, services and resources available to adults and children in need of hematology and oncology care. "The funds raised on behalf of the LLS activities through this campaign are saving thousands of lives each year," Dr. Dietrich said.
FCS Chief Executive Officer Nathan H. Walcker applauded the achievement. "Dr. Dietrich emulates the philanthropic spirit shared by his physician colleagues and fellow team members across our statewide practice," Walcker said. "FCS is proud to support the LLS mission, which helps improve the quality of life for so many patients and their families in communities across Florida."
Michael Diaz, MD, FCS President & Managing Physician, added, "LLS activities support vital clinical trials research, like those we make available to our patients that are expanding possibilities and improving the quality of life for the nearly 1.6 million adults and children in the U.S. who are living with, or in remission from, some type of blood cancer. Together, we truly are getting closer each day to the goal we share with LLS – a cure for cancer."
Man & Woman of the Year is a philanthropic competition to support blood cancer research. Candidates from communities across the United States form fundraising teams. The man and woman who have raised the most funds during the ten-week campaign are awarded the prestigious title of Man or Woman of the Year in their community.
###
About Florida Cancer Specialists & Research Institute, LLC: (FLCancer.com)
Recognized by the American Society of Clinical Oncology (ASCO) with a national Clinical Trials Participation Award, Florida Cancer Specialists & Research Institute (FCS) offers patients access to more clinical trials than any private oncology practice in Florida. In the past four years, the majority of new cancer drugs approved for use in the U.S. were studied in clinical trials with Florida Cancer Specialists participation.* Trained in prestigious medical schools and research institutes, our physicians are consistently ranked nationally as Top Doctors by U.S. News & World Report.
Founded in 1984, Florida Cancer Specialists has built a national reputation for excellence that is reflected in exceptional and compassionate patient care, driven by innovative clinical research, cutting-edge technologies and advanced treatments, including targeted therapies, genomic-based treatment, and immunotherapy.  Our highest values are embodied by our outstanding team of highly trained and dedicated physicians, clinicians and staff.
*Prior to approval
For More Information, Contact:
Michelle Robey, Vice President of Marketing
Michelle.Robey@FLCancer.com
(813) 767-9398
Jen Bradley, Director of Corporate Communications
Jen.Bradley@FLCancer.com
(847) 280.1740