Andrea Katz, MD Joins Florida Cancer Specialists & Research Institute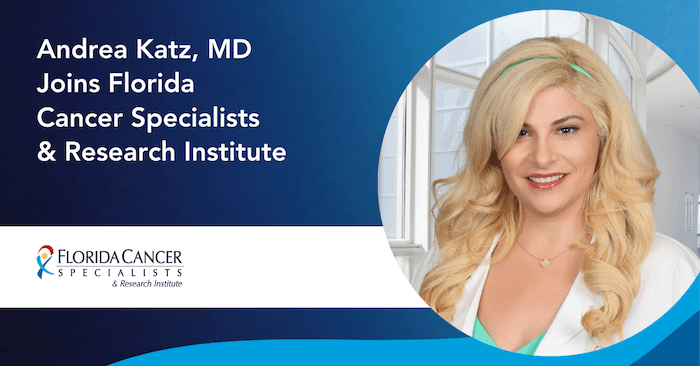 Florida Cancer Specialists & Research Institute Welcomes Hematologist & Medical Oncologist Andrea Katz, MD
Fort Myers, Fla., November 13, 2023 – Florida Cancer Specialists & Research Institute, LLC (FCS) is pleased to announce that hematologist and medical oncologist Andrea Katz, MD has joined the statewide practice. She is providing care to patients at FCS locations in Orange City at 2824 Enterprise Road, Orange City, FL 32763, in Deland at 810 N. Spring Garden Ave., Suite 100, Deland, FL 32720 and the FCS Lake Mary Cancer Center at 805 Currency Circle, Lake Mary, FL 32746.
Dr. Katz has been providing care to patients in Florida for more than 10 years. After receiving her medical degree from The Pennsylvania State College of Medicine in Hershey, she completed internal medicine residency training at East Carolina University in Greenville, North Carolina and was awarded a fellowship in hematology and oncology at Yale University.
FCS President & Managing Physician Lucio Gordan, MD said, "Dr. Katz is well known and highly regarded. She has consistently received recognition as a top doctor in hematology and oncology. Our patients will benefit from her expert knowledge and caring demeanor."
"As a respected physician and an experienced principal investigator for numerous clinical trials, Dr. Katz is on the forefront of providing her patients with the most advanced treatment options. We are delighted to welcome her to our practice," said FCS Chief Executive Officer Nathan H. Walcker.