Florida Cancer Specialists & Research Institute Expands Access to Gynecologic Oncology in Palm Beach County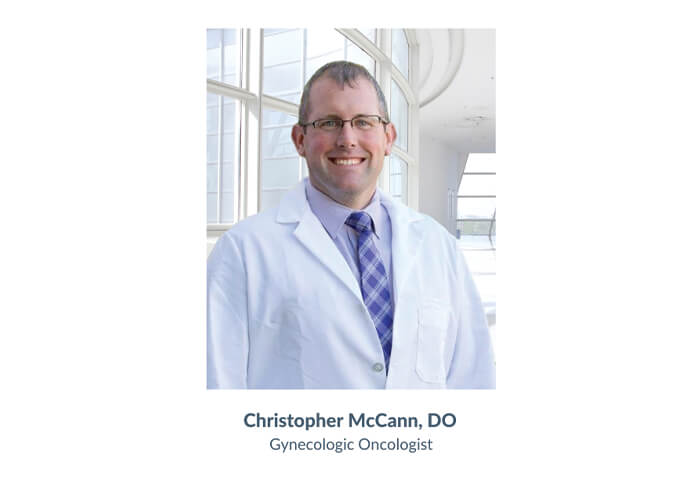 Statewide Practice Welcomes Christopher McCann, DO to Lake Worth
Fort Myers, Fla., June 1, 2022 – Florida Cancer Specialists & Research Institute, LLS (FCS) has expanded access to specialized gynecologic oncology care with the addition of Board-certified gynecologic oncologist Christopher McCann, DO. He is providing care to patients at the FCS Lake Worth location, 4801 S. Congress Ave., Suite 400, Lake Worth, FL 33461.
Dr. McCann specializes in the medical and surgical treatment of patients with ovarian, endometrial and cervical cancer, with a focus on the use of minimally invasive techniques.
He received his Doctor of Osteopathic Medicine degree from the University of New England and completed residency training in Obstetrics & Gynecology at Saint Francis Hospital in Hartford, CT. He was awarded the Galloway Fellowship in Gynecology Service at Memorial Sloan-Kettering Cancer Center in New York, NY and also completed a fellowship in Gynecology Oncology at Massachusetts General Hospital in Boston.
Previously, Dr. McCann served as an Instructor in Obstetrics, Gynecology and Reproductive Biology at Harvard Medical School Hospital and on the Medical Staff of Beth Israel Deaconess Medical Center, Boston, MA and other hospitals throughout New England.
"Dr. McCann is the fifth gynecologic oncologist to join our statewide practice," said FCS Chief Executive Officer Nathan H. Walcker. "We are pleased to further expand access to these much-needed specialty services, demonstrating our ongoing commitment to providing world-class cancer care close to home in communities throughout the state."
"FCS is on the forefront in the use of innovative new technologies," FCS President & Managing Physician Michael Diaz, MD said. "Dr. McCann specializes in the treatment of gynecologic cancers using minimally invasive procedures that yield many benefits to patients and often result in better patient outcomes."
FCS provides gynecologic oncology services at its clinic locations in Palm County, Tallahassee and Tampa Bay.
Learn more about Dr. McCann here: https://flcancer.com/staff/christopher-mccann-d-o/
About Florida Cancer Specialists & Research Institute
Recognized by the American Society of Clinical Oncology (ASCO) with a national Clinical Trials Participation Award, Florida Cancer Specialists & Research Institute (FCS) offers patients access to more clinical trials than any private oncology practice in Florida. Over the past 5 years, the majority of new cancer drugs approved for use in the U.S. were studied in clinical trials with Florida Cancer Specialists participation.* Trained in such prestigious medical schools and research institutes as Duke, Stanford, Harvard, Emory, MD Anderson, and Memorial Sloan Kettering, our physicians are consistently ranked nationally as Top Doctors by U.S. News & World Report.
Florida Cancer Specialists has built a national reputation for excellence that is reflected in exceptional and compassionate patient care, driven by innovative clinical research, cutting-edge technologies, and advanced treatments, including targeted therapies, genomic-based treatment, and immunotherapy. Our values are embodied by our outstanding team of highly trained and dedicated physicians, clinicians, and staff.
*Prior to approval
For More Information, Contact:
Michelle Robey, VP of Marketing
Michelle.Robey@FLCancer.com
(813) 767-9398
Jennifer Bradley, Director of Corporate Communications
Jennifer.Bradley@FLCancer.com
(847) 280-1740